Honesty.
Integrity.
Dependability.
Modern Services has been providing quality service since 1965. We are one of the largest HVAC, Electrical, Plumbing, and Light Refrigeration companies in Southwest Florida.
Our service technicians are on stand-by 24/7. Contact us today!
UNPARALLELED SERVICE IN SOUTHWEST FLORIDA SINCE 1965
Providing installation, repair and maintenance for
Air Conditioning, Plumbing and Electrical
Our depth of resources provides a single source for your residential and commercial cooling, heating, indoor air quality, plumbing, electrical, and light refrigeration needs. We invite you to call us at 239-360-3227 for a free system replacement estimate. Modern Services is fully licensed and insured. All of our expert technicians are certified and dedicated to providing the best AC repair services in the industry.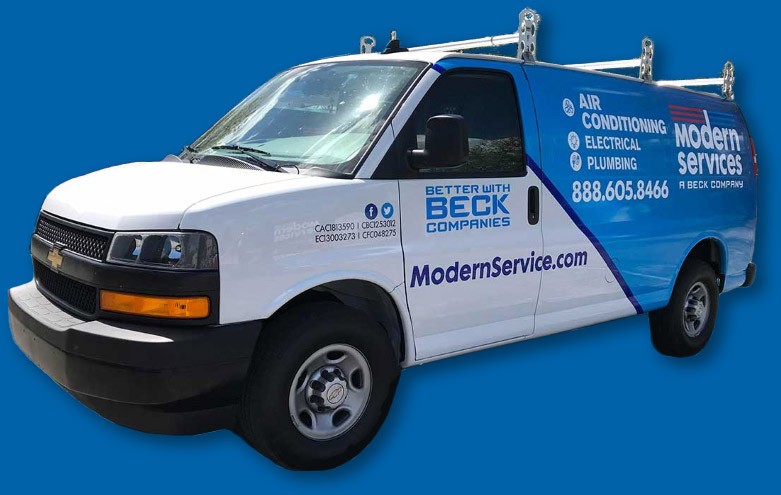 HOW CAN MODERN SERVICES HELP YOU?
Our trained technicians are up to the task no matter what challenges you face at your home or commercial location. Modern Services can keep your systems running efficiently using quality products and excellent workmanship, saving you time and money.
We are passionate about doing things right the first time. Our reputation is built on providing quality work and an exceptional experience with our customers.
Years Serving Southwest Florida
Satisfied Customers Since 1965
Active Modern Memberships
Need after-hours service?
Our techs are always available to resolve any air conditioner malfunction. We offer a 24-hour, employee-operated dispatch system for immediate action seven days a week.
What Our Customers Are Saying
"Thank you for sending such a great service person as Juan Sanchez to service my air conditioner. Flawless, brilliant, conscientious and the best ever. You are lucky to have him. Five star plus!"